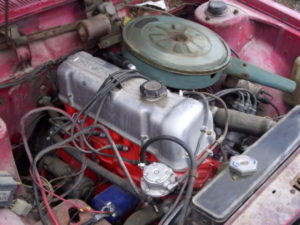 The Nissan / Datsun L18 is a carbureted 1.8 liter (1,770 cc, 108.01 cu in) straight-4, four-stroke cycle gasoline engine from Nissan L-family. The Nissan L18 motor produced from 1972 through 1976.
The Nissan-Datsun L18 engine feature OHC valves, wedge-shaped combustion chamber, aluminum cylinder head and fully balanced five-bearing crankshaft to turn out smooth, dependable power. The L18 engine uses eight balance weights. The cylinder block is cast in a single unit, featuring deep skirting. The engine is equipped with single, 2-barrel, downdraft carburetor.
The L18 engine with SU twin carburetor was also available, it was called L18T. This engine had higher compression pistons, lower volume combustion chambers, higher compression ratio, higher output power, and torque.
The L18 engine has an 85.0 mm (3.35 in) cylinder bore and 78.0 mm (3.07 in) piston stroke with a compression ratio of 8.5:1. It produced 105 PS (103 HP, 77 kW) at 6,000 rpm and 147 Nm (15.0 kg·m, 108 lb·ft) at 3,600 rpm .
The breakdown of the engine code is as follows:
L – Engine Family
16 – 1.8 Liter Displacement
General information
Engine Specifications
Engine code
L18
Layout
Four stroke, Inline-4 (Straight-4)
Fuel type
Gasoline
Production
–
Displacement
1.8 L, 1,770 cm3 (108.017 cu in)
Fuel system
Single carburetor
Power adder
None
Max. horsepower
105 PS (103 HP, 77 kW) at 6,000 rpm
Max. torque
147 Nm (15.0 kg·m, 108 lb·ft) at 3,600 rpm
Firing order
1-3-4-2
Dimensions (L x H x W):
–
Weight
–
Cylinder block
The Nissan L18 motor has a cast-iron cylinder block. The cylinder block, which is of a monoblock special casting structure, adopts the five-bearing-support system. The cylinder bores are surrounded by cooling jackets and machined directly in the block. The oilways in the block are arranged so that the full-flow oil filter is directly attached to the right-hand side of the block. The Nissan L16 engine cylinder bore is 85.0 mm (3.35 in) and the piston stroke is 78.0 mm (3.07 in), compression ratio rating is 8.5:1.
The crankshaft is a special steel forging. Fully balanced, it turns out smooth, dependable power at high speed. Main bearings gain lubrication from oil pumped through the main oil gallery and the oil holes which run in parallel with cylinder bores.
The pistons are special aluminum casting with struts to control thermal expansion and have two compression rings and one combined oil ring. The piston pin is a special hollow steel shaft. It is full-floating fit to the piston and press-fit to the connecting rods. The connecting rods are special forged steel.
Cylinder block
Cylinder block alloy
Cast iron
Compression ratio:
8.5:1
Cylinder bore:
85.0 mm (3.35 in)
Piston stroke:
78.0 mm (3.07 in)
Number of piston rings (compression / oil):
2 / 1
Number of main bearings:
5
Cylinder inner diameter (standard):
85.000 mm (3.346 in)
Piston skirt diameter (standard):
84.985-85.035 mm (3.3459-3.3478 in)
Piston pin outer diameter:
20.995-21.000 mm (0.8266-0.8268 in)
Piston ring side clearance:
Top
0.045-0.080 mm (0.0018-0.0031 in)
Second
0.030-0.070 mm (0.0012-0.0028 in)
Piston ring end gap:
Top
0.35-0.55 mm (0.0138-0.0217 in)
Second
0.30-0.50 mm (0.0118-0.0197 in)
Oil
0.30-0.90 mm (0.012-0.035 in)
Connecting rod center distance:
130.35 mm (5.24 in)
Crankshaft journal diameter:
54.942-54.955 mm (2.1631-2.1336 in)
Crankpin diameter:
49.961-49.974 mm (1.9670-1.9675 in)
Crankshaft center distance:
39.00 mm (1.5354 in)
Cylinder head
The cylinder head is made of light and strong aluminum alloy with good cooling efficiency; it contains wedge-type combustion chambers. A special aluminum bronze valve seat is used on the intake valve, while a heat resistant steel valve seat is installed on the exhaust valve. These parts are all hot press-fitted.
The camshaft is made of special cast iron and located inside rocker cover. Four aluminum alloy brackets support camshaft. Camshaft bearings are lubricated from oil holes which lead to the main oil gallery of the cylinder head. The valve system has a pivot type rocker arm that is activated directly by the cam mechanism. The Nissan L18 motor use the dual-type valve springs. Intake valves are 42 mm (1.65 in) in diameter and the exhaust valves are 35 mm (1.37 in). The intake valve duration is 240°, valve lift is 10.0 mm (0.39 in); the exhaust valve duration is 248°, valve lift is 10.5 mm (0.41 in).
The camshaft is driven by a double row roller chain driven by the crankshaft. The tension of the chain is controlled by a chain tensioner which is operated by spring and oil pressure.
Cylinder head
Valve Arrangement:
OHV, chain drive
Valves:
8 (2 valves per cylinder)
Intake/Exhaust duration:
240°/248°
Valve head diameter:
INTAKE
42.0 mm (1.6535 in)
EXHAUST
35.0 mm (1.3780 in)
Valve length:
INTAKE
114.9-115.2 mm (4.524-4.535 in)
EXHAUST
115.7-116.0 mm (4.555-4.567 in)
Valve stem diameter:
INTAKE
7.965-7.980 mm (0.3136-0.3142 in)
EXHAUST
7.945-7.960 mm (0.3128-0.3134 in)
Valve spring free length:
INTAKE
Outer: 49.98 mm (1.968 in)
Inner: 44.85 mm (1.766 in)
EXHAUST
Outer: 49.98 mm (1.968 in)
Inner: 44.85 mm (1.766 in)
Camshaft robe lift:
INTAKE
6.65 mm (0.2618 in)
EXHAUST
7.00 mm (0.2753 in)
Rocker arm lever ratio:
1.45
Outer camshaft journal diameter:
47.949-47.962 mm (1.8878-1.8883 in)
Tightening torque specs
Tightening torque specs
Cylinder head bolt
Step 1: 40 Nm; 4.0 kg·m; 28.9 ft·lb
Step 2: 60 Nm; 6.0 kg·m; 43.4 ft·lb
Step 3: 60-85 Nm; 6.5-8.5 kg·m; 47.0-61.5 ft·lb
Connecting rod big end nuts
44-54 Nm; 4.5-5.5 kg·m; 33-40 ft·lb
Flywheel bolt
137-157 Nm; 14.0-16.0 kg·m; 101-116 ft·lb
Main bearing cap bolt
31-37 Nm; 3.2-3.8 kg·m; 23-27 ft·lb
Camshaft sprocket bolt
118-157 Nm; 12.0-16.0 kg·m; 87-116 ft·lb
Oil pan bolts
6-9 Nm; 0.6-0.0 kg·m; 4.3-6.5 ft·lb
Oil pump bolt
11-15 Nm; 1.1-1.5 kg·m; 8-11 ft·lb
Oil pan drain plug
20-30 Nm; 2.0-3.0 kg·m; 14-22 ft·lb
Rocker pivot lock nut
49-59 Nm; 5.0-6.0 kg·m; 36-44 ft·lb
Camshaft locating plate bolts
6-9 Nm; 0.6-0.0 kg·m; 4.3-6.5 ft·lb
Manifold nuts
8-12 Nm; 0.8-1.2 kg·m; 5.8-8.7 ft·lb
Fuel pump nuts
12-18 Nm; 1.2-1.8 kg·m; 8.7-13.0 ft·lb
Crank pulley nut
118-157 Nm; 12.0-16.0 kg·m; 87-116 ft·lb
Maintenance data
Valve clearance (HOT)
Intake valve
0.25 mm (0.010 in)
Intake valve
0.30 mm (0.012 in)
Valve clearance (COLD)
Intake valve
0.20 mm (0.008 in)
Exhaust valve
0.25 mm (0.010 in)
Compression pressure
Standard
12.0 kg/cm2 (11.77 bar, 171 psi) / 350 rpm
Minimun
9.0 kg/cm2 (8.83 bar, 128 psi) / 250 rpm
Oil system
Oil consumption , L/1000 km (qt. per miles)
up to 0.5 (1 qt. per 1200 miles)
Recommended engine oil
5W-30
5W-40
10W-30
10W-40
Oil type API
SE
Engine oil capacity (Refill capacity)
Hight level: 4.3 l
Low level: 3.3 l
Oil change interval, km (miles)
5,000-10,000 (3,000-6,000)
Oil pressure, kg/cm2 (psi)
3.5-4.2 (49.8-56.9) at 2,000 rpm
Ignition system
Spark plug
BP5ES (NGK)
Spark plug gap
0.8-0.9 mm (0.03-0.035 in)
Spark plug tightening torque
15-25 Nm; 1.5-2.5 kg·m; 11-15 ft·lb
Vehicle applications
| | |
| --- | --- |
| Model | Years Produced |
| Nissan Bluebird | 1971-1976 |
| Datsun 180B | 1971-1976 |
| Nissan 160B sedan (610) | 1971–1977 |
| Nissan Bluebird (P510) | 1973 |
| Datsun 1600 SSS (P510) | 1973 |
| Datsun 610 | 1973 |
| Datsun 620 truck | 1974 |
| Datsun 710 | 1974 |
| Datsun 180SX | 1979–1981 |
| Datsun 720 | 1980–1986 |
| Datsun 810 | – |
ATTENTION!
Dear visitors, this site is not a trading platform, an official dealer or a spare parts supplier, so we do not have any price lists or spare parts catalogs. We are an information portal and provide the technical specifications of gasoline and diesel engines.



We try to use verified sources and official documentation, however, differences between sources or errors in entering information may occur. We do not provide advice on technical issues related to the engines operation or repair. We do not recommend using provided information for engines repairing engines or spare parts ordering, use only official service manuals and spare-parts catalogs.