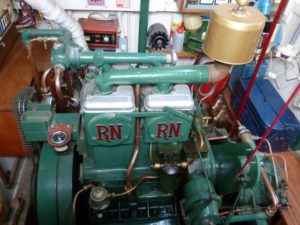 Russell Newbery is a brand of water cooled diesel engines, build mainly for marine and industrial applications, beginning in 1920s. Nowadays Russell Newbery engines seen mainly in canal narrowboats.
The name is from the surnames of the two founders of the original company, Fedrick Russell and William Newbery.
The first Russell Newbery diesel engine was code-named "D1". It was a heavily constructed single-cylinder totally enclosed vertical four-stroke power unit. It delivered 9 BHP when running at its designed maximum of 1,000 rpm. From its introduction in 1929, the D1 was an immediate success.
Engine
Displacement
Power output
Bore & Stroke
Weight
Single-cylinder
DX1
1.3 l
1314 cc
24 HP @ 650 RPM – 44 HP @ 1200 RPM
4

1/8

X 6 in
380 kg
RD1
1.3 l
1320 cc
9 HP @ 1000 RPM – 13.25 HP @ 1500 RPM
4

1/8

X 6 in
380 kg
Two-cylinders
D2
2.6 l
2640 cc
12 HP @ 650 RPM – 26 HP @ 1500 RPM
4

1/8

X 6 in
590 kg
DM2
2.6 l
2640 cc
12 HP @ 650 RPM – 22 HP @ 1200 RPM
4

1/8

X 6 in
780 kg
DX2
2.6 l
2640 cc
21.5 HP @ 1200 RPM – 26.5 HP @ 1500 RPM
4

1/8

X 6 in
590 kg
Straight-3
D3
4.0 l
3960 cc
18 HP @ 650 RPM – 39 HP @ 1500 RPM
4

1/8

X 6 in
760 kg
DM3
4.0 l
3960 cc
18 HP @ 650 RPM – 33 HP @ 1200 RPM
4

1/8

X 6 in
950 kg
DX3
4.0 l
3960 cc
32 HP @ 1200 RPM – 39.75 HP @ 1500 RPM
4

1/8

X 6 in
760 kg
E3
7.3 l
7350 cc
32 HP @ 650 RPM – 60 HP @ 1200 RPM
5

1/8

X 6

1/4

in
1250 kg
EM3
7.3 l
7350 cc
32 HP @ 650 RPM – 60 HP @ 1200 RPM
5

1/8

X 6

1/4

in
1740 kg
F3
–
43 HP @ 650 RPM – 80 HP @ 1200 RPM
–
– kg

Straight-4
D4
5.3 l
5280 cc
24 HP @ 650 RPM – 52 HP @ 1500 RPM
4

1/8

X 6 in
940 kg
DM4
5.3 l
5280 cc
24 HP @ 650 RPM – 44 HP @ 1200 RPM
4

1/8

X 6 in
1130 kg
DX4
5.3 l
5280 cc
43 HP @ 1200 RPM – 53 HP @ 1500 RPM
4

1/8

X 6 in
940 kg
E4
9.8 l
9800 cc
43 HP @ 650 RPM – 80 HP @ 1200 RPM
5

1/8

X 6

1/4

in
1740 kg
E4S
9.8 l
9800 cc
43 HP @ 650 RPM – 80 HP @ 1200 RPM
5

1/8

X 6

1/4

in
1740 kg
EM4
9.8 l
9800 cc
43 HP @ 650 RPM – 80 HP @ 1200 RPM
5

1/8

X 6

1/4

in
2190 kg
F4
–
57 HP @ 650 RPM – 106 HP @ 1200 RPM
–
–
F4S
–
106 HP @ 1000
–
–
PD4
6.0 l
5920 cc
6 HP @ 650 RPM – 48 HP @ 1200 RPM
4

1/8

X 6 in
950 kg
PDM4
6.0 l
5920 cc
6 HP @ 650 RPM – 48 HP @ 1200 RPM
4

1/8

X 6 in
1270 kg
Straight-6
E6
14.7 l
14700 cc
65 HP @ 650 RPM – 110 HP @ 1100 RPM
5

1/8

X 6

1/4

in
2550 kg
E6S
14.7 l
14700 cc
78 HP @ 650 RPM – 120 HP @ 1000 RPM
5

1/8

X 6

1/4

in
2600 kg
EM6
14.7 l
14700 cc
65 HP @ 650 RPM – 110 HP @ 1000 RPM
5

1/8

X 6

1/4

in
3000 kg
EM6S
14.7 l
14700 cc
78 HP @ 650 RPM – 120 HP @ 1000 RPM
5

1/8

X 6

1/4

in
3280 kg
F6
–
74 HP @ 650 RPM – 160 HP @ 1200 RPM
–
–
F6S
–
160 HP @ 1000 RPM
–
–