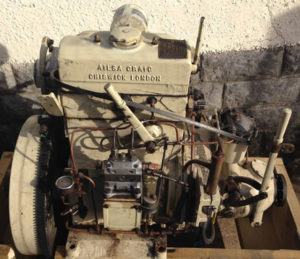 The Ailsa Craig Engine Company was a manufacturer of marine and specialist, made-to-order engines between 1891 and 1972.
Named after the Scottish island of Ailsa Craig, the company began as a bicycle manufacturer in Glasgow in 1891, moving to Putney (and later Chiswick) in London where they began building motor vehicles.
Ailsa Craig produced the world's first V12 engine in 1904, worked for the Ministry of Munitions and the Admiralty during the First World War and in 1926 was granted a Royal Appointment.
There was further war commitment in 1939 from an additional factory site in Twickenham until after the war when the factory moved to Ashford where it continued to produce high quality diesel engines until sold to Warsop's Fram Group in 1964. The company was closed down in 1972.
Engine
Displacement
Power output
Bore & Stroke
Weight
Single-cylinder
RF1
0.80 l
803 cc
15 HP @ 1500 RPM
4

1/8

X 5

1/2

310 kg
RF1M
0.80 l
803 cc
10 HP @ 1200 RPM
4

1/8

X 5

1/2

330 kg
RFS1
0.80 l
803 cc
10 HP @ 1200 RPM
4

1/8

X 5

1/2

310 kg
Two-cylinders
RF2
1.6 l
1606 cc
30 HP @ 1500 RPM
4

1/8

X 5

1/2

410 kg
RF2M
1.6 l
1606 cc
20 HP @ 1200 RPM
4

1/8

X 5

1/2

430 kg
RFS2
1.6 l
1606 cc
20 HP @ 1200 RPM
4

1/8

X 5

1/2

410 kg
Straight-3
RAS3
2.4 l
2410 cc
45 HP @ 1500 RPM
4

1/8

X 5

1/2

–
RF3
2.4 l
2410 cc
45 HP @ 1500 RPM
4

1/8

X 5

1/2

500 kg
RF3M
2.4 l
2410 cc
30 HP @ 1200 RPM
4

1/8

X 5

1/2

550 kg
RFS3
2.4 l
2410 cc
30 HP @ 1200 RPM
4

1/8

X 5

1/2

500 kg
RKS3
2.4 l
2410 cc
35 HP @ 1500 RPM
4

1/8

X 5

1/2

–
Straight-4
RAS4
3.2 l
3213 cc
60 HP @ 1500 RPM
4

1/8

X 5

1/2

–
RF4
3.2 l
3213 cc
60 HP @ 1500 RPM
4

1/8

X 5

1/2

650 kg
RF4M
3.2 l
3213 cc
40 HP @ 1200 RPM
4

1/8

X 5

1/2

700 kg
RFS4
3.2 l
3213 cc
40 HP @ 1200 RPM
4

1/8

X 5

1/2

650 kg
RKS4
3.2 l
3213 cc
46 HP @ 1500 RPM
4

1/8

X 5

1/2

–

Straight-6
RAS6
4.8 l
4818 cc
90 HP @ 1500 RPM
4

1/8

X 5

1/2

–
RF6
4.8 l
4818 cc
90 HP @ 1500 RPM
4

1/8

X 5

1/2

780 kg
RF6M
4.8 l
4818 cc
60 HP @ 1200 RPM
4

1/8

X 5

1/2

950 kg
RFS6
4.8 l
4818 cc
60 HP @ 1200 RPM
4

1/8

X 5

1/2

780 kg
RKS6
4.8 l
4818 cc
70 HP @ 1500 RPM
4

1/8

X 5

1/2

–
Straight-8
RF8
6.4 l
6424 cc
120 HP @ 1500 RPM
4

1/8

X 5

1/2

900 kg
RF8M
6.4 l
6424 cc
80 HP @ 1200 RPM
4

1/8

X 5

1/2

1300 kg
RFS8
6.4 l
6424 cc
80 HP @ 1200 RPM
4

1/8

X 5

1/2

900 kg
V12
RF12
9.6 l
9636 cc
180 HP @ 1500 RPM
4

1/8

X 5

1/2

980 kg
RF12M
9.6 l
9636 cc
120 HP @ 1200 RPM
4

1/8

X 5

1/2

1450 kg
RFS12
9.6 l
9636 cc
120 HP @ 1200 RPM
4

1/8

X 5

1/2

980 kg