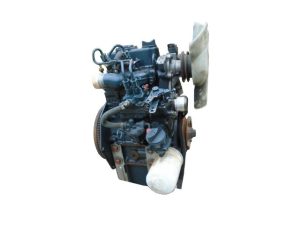 The Kubota Z482-E2B is a 0.48 L (479 cc, 29.2 cu·in) straight-two, water-cooled naturally aspirated vertical diesel engine from the Super-Mini series manufactured by Kubota.
The Kubota Z482-E2B engine has a spherical type сombustion сhamber with glow plug, Bosch MD mini fuel injection pump, and Bosch throttle type injection nozzle.
The compression ratio rating is 23.5:1. Cylinder bore is 67.0 mm (2.64 in) and the piston stroke is 68.0 mm (2.68 in).
The Z482-E2B diesel engine produced 13.5 PS (9.9 KW; 13.3 HP) at 3,600 rpm of gross (intermittent) horsepower and 29.7 Nm (3.03 kg·m; 21.92 ft·lb) at 2,600 rpm of torque.
The breakdown of the engine code is as follows:
Z – 2-cylinders
48 – Approximate displacement 480 cc
2 – Super-Mini series
E2B – EPA/CARB Tier 2 level
General information
Engine Specifications
Engine code
Z482-E2B
Layout
Straight-2, vertical diesel engine
Fuel type
Diesel fuel No.2-D
Production
–
Displacement
0.48 L, 479 cm3 (29.2 cu in)
Fuel injection pump
Bosch MD type mini fuel injection pump
Fuel nozzle
Bosch "Throttle" type
Starting system
Electric starting with 12V (0.8 kW) starter
Starting support device
Glow plug in combustion chamber
Governor
Centrifugal ball mechanical governor
Power adder
None
Max. Horsepower
Gross (intermittent): 13.5 PS (9.9 KW; 13.3 HP) at 3,600 rpm
Net (intermittent): 12.6 PS (9.3 KW; 12.5 HP) at 3,600 rpm
Torque output
29.7 Nm (3.03 kg·m; 21.92 ft·lb) at 2,600 rpm
Firing order
1-2
Dimensions (L x W x H):
338 x 386 x 564 mm (13.3 x 15.2 x 22.2 in)
Weight
53.0 kg (117.0 lbs)
Cylinder block
The Kubota Z482-E2B diesel engine has a high durability tunnel-type cylinder block in which the crank bearing component is a constructed body.
The crankshaft is made of tough special alloy steel, and the journals, pins and oil seal sliding portions are induction hardened. The front journal is supported by a solid type bearing, the intermediate journal by a split type, and the rear journal by a split type with thrust bearings. The crankshaft is provided with an oil gallery, through which engine oil i s fed t o the crankpin portion, and lubricate it.
The piston is made of aluminum alloy. Three rings are installed in grooves in the piston. The top ring is a keystone type, which can stand against heavy loads, and the barrel face on the ring fits well to the cylinder wall. The second ring is an undercut type, which effectively prevents the oil from being carried up. The oil ring has chamfered contact faces and anexpander ring, which increase the pressure of the oil ring against the cylinder wall.
Cylinder block
Compression ratio:
23.5:1
Cylinder bore:
67.0 mm (2.64 in)
Piston stroke:
68.0 mm (2.68 in)
Number of piston rings (compression / oil):
2 / 1
Cylinder inner diameter:
67.000-67.019 mm (2.6378-2.6385 in)
Piston skirt diameter
–
Piston ring groove clearance:
Second
0.090-0.120 mm (0.00354-0.00472 in)
Oil
0.040-0.080 mm (0.0016-0.0031 in)
Piston ring end gap:
Top
0.150-0.300 mm (0.0059-0.0118 in)
Second
0.300-0.450 mm (0.0118-0.0177 in)
Oil
0.150-0.300 mm (0.0059-0.0118 in)
Piston pin outer diameter
20.002-20.011 mm (0.7875-0.7878 in)
Crankshaft main journal diameter:
Flywheel side: 43.934-43.950 mm (1.72969-1.73032 in)
Other: 39.934-39.950 mm (1.5722-1.5728 in)
Crankpin diameter:
33.959-33.975 mm (1.337-1.3376 in)
Cylinder head
The cross-flow type intake and exhaust ports in the Kubota Z482-E2B engine have their openings at both sides of the cylinder head. Because overlaps of intake and exhaust ports are smaller than in ports of other types which have openings on one side, the suction air can be protected from being heated and expanded by heated exhaust air.
Cylinder head
Valve Arrangement:
OHV, gear drive
Valves:
4 (2 valves per cylinder)
Valve timing:
INTAKE
–
EXHAUST
–
Valve seat width:
INTAKE
2.120 mm (0.0835 in)
EXHAUST
2.120 mm (0.0835 in)
Valve stem diameter:
INTAKE
5.968-5.980 mm (0.2349-0.2354 in)
EXHAUST
5.968-5.980 mm (0.2349-0.2354 in)
Valve spring free length:
INTAKE
31.300-31.800 mm (1.232-1.252 in)
EXHAUST
31.300-31.800 mm (1.232-1.252 in)
Camshaft cam height:
INTAKE
26.880 mm (1.0583 in)
EXHAUST
26.880 mm (1.0583 in)
Camshaft journal diameter:
32.934-32.950 mm (1.2966-1.2972 in)
Tightening torque
Tightening torque specs
Cylinder head cover screw (M6x1.0):
6.86-11.3 Nm (0.7-1.15 kgf-m, 5.1-8.3 ft-lbs)
Injection pipe retaining nut (M12x1.5):
24.5-34.3 Nm (2.5-3.5 kgf-m, 18.1-25.3 ft-lbs)
Overflow pipe retaining nut (M12x1.5):
19.6-24.5 Nm (2.0-2.5 kgf-m, 14.5-18.1 ft-lbs)
Nozzle holder assembly (M20x1.5):
49.0-68.6 Nm (5.0-7.0 kgf-m, 36.2-50.6 ft-lbs)
Glow plugs (M8x1.0):
7.8-14.7 Nm (0.8-1.5 kgf-m, 5.8-10.8 ft-lbs)
Rocker arm bracket nuts (M6x1.0):
9.81-11.28 Nm (1.0-1.15 kgf-m, 7.23-8.32 ft-lbs)
Cylinder head screw (M8x1.25):
37.3-42.2 Nm (3.8-4.3 kgf-m, 27.5-31.1 ft-lbs)
Fan drive pulley screw (M12x1.5):
117.7-127.5 Nm (12.0-13.0 kgf-m, 86.8-94.0 ft-lbs)
Idle gear shaft mounting screw (M6x1.0):
9.8-11.3 Nm (1.00-1.15 kgf-m, 7.2-8.3 ft-lbs)
Oil pump mounting screw (M8 x 1.25):
17.7-21.6 Nm (1.80-2.20 kgf-m, 13.0-15.9 ft-lbs)
Connecting rod screw (M7x0.75):
26.5-30.4 Nm (2.7-3.1 kgf-m, 19.5-22.4 ft-lbs)
Flywheel screw (M10x1.25):
53.9-58.8 Nm (5.5-6.0 kgf-m, 39.8-43.4 ft-lbs)
Main bearing case screw 1 (M6x1.0):
12.7-15.7 Nm (1.3-1.6 kgf-m, 9.4-11.6 ft-lbs)
Main bearing case screw 2 (M7x1.0):
26.5-30.4 Nm (2.7-3.1 kgf-m, 19.5-22.4 ft-lbs)
Nozzle holder:
34.3-39.2 Nm (3.5-4.0 kgf-m, 25.3-28.9 ft-lbs)
Maintenance data
Valve clearance
Intake valve
0.145-0.185 mm (0.0057-0.0073 in)
Exhaust valve
0.145-0.185 mm (0.0057-0.0073 in)
Compression pressure
Standard
2.84-3.24 MPa, 29-33 kgf/cm2, 412-469 psi
Allowable limit
2.26 MPa, 23.0 kgf/cm2, 327 psi
Oil system
Recommended engine oil
CF or CD,CE
SAE Viscosity Number
SAE 10W-30, 10W-40
Engine oil capacity
Oil pan depth 101 mm (3.98 in): 2.1 L (2.2 US. qt, 1.85 Imp. qt.)
Oil pan depth 121 mm (4.76 in): 2.5 L (2.6 US. qt, 2.21 Imp. qt.)
Fuel system
Injection timing:
19-21°B.T.D.C.
Injection nozzle pressure
13.73-14.71 MPa (140-150 kgf/cm2, 1991-2133 psi)
Cooling system
Coolant capacity:
2.8 liters (3.0 US.qts, 2.5 Imp. qts)
Thermostat's valve opening temperature:
69.5-72.5°C (157.1-162.5°F)
Temperature at which thermostat completely opens:
85°C (185°F)
Electrical system
Battery:
12V, 35Ah or equivalent
Starter mica undercut:
0.5-0.8 mm (0.0197-0.0315 in)
Glow plug resistance:
Approx 0.9 Ω
ATTENTION!
Dear visitors, this site is not a trading platform, an official dealer or a spare parts supplier, so we do not have any price lists or spare parts catalogs. We are an information portal and provide the technical specifications of gasoline and diesel engines.



We try to use verified sources and official documentation, however, differences between sources or errors in entering information may occur. We do not provide advice on technical issues related to the engines operation or repair. We do not recommend using provided information for engines repairing engines or spare parts ordering, use only official service manuals and spare-parts catalogs.