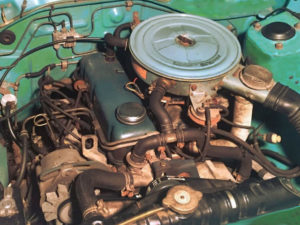 The Nissan A14 or later A14S is a 1.4 l (1,397 cc) in-line over head valve four-cylinder 4-stroke gasoline engine from Nissan A-family. The engine was manufactured by Nissan Motor Company from 1975 through 2008.
The A14 engine is the most common A-series engine available in the USA, although in some other markets it is relatively rare due to continued use of A12 engines through 1994. It features lightweight cast-iron block with full-opened wedge-shaped combustion chambers, aluminum head, and fully balanced five-bearings crankshaft.
Like the previous 1974 A13, the A14 engine is a "tall-block" variant with the block dock 15mm higher than the A12. Bore and stroke were 76.0 mm (increased from 73 mm on A12 and A13) and 77.0 mm (the same with A13), respectively. Compression ratio rating was 8.5:1.
The A14 was produced in various ratings from 50 HP (37 kW) to 92 HP (68 kW).
In some markets, the engine was available with Hitachi Twin Carb, this version was called A14T. The A14E engine with Electronic Port Fuel Injection system was offered in Asian markets. Since 2002, the new A14S has been available for Nissan commercial vehicles, like forklifts. The Nissan Sunny B140 variation, with A14 engine, was manufactured up until 2008 by Nissan South Africa as the Nissan LDV 1400 (Light Delivery Vehicle).
The breakdown of the engine code is as follows:
A – Engine Family
14 – 1.4 Liter Displacement
S – Carburetor type
General information
Engine Specifications
Engine code
A14
Layout
Four stroke, Inline-4 (Straight-4)
Fuel type
Gasoline (petrol)
Production
1975-2008
Displacement
1.4L, 1,397 cc (85.24 cu in)
Fuel system
Carburetor type
Power adder
None
Power output
50 HP (37 kW) at 5,000 rpm to 92 HP (68 kW) at 6,000 rpm
Torque output
–
Firing order
1-3-4-2
Dimensions (L x W x H):
–
Weight
–
Cylinder block
The A14 has a cylinder block in mono-block special casting structure with five bearing support system. The engine is provided with a baffle plate and a steel net to reduce oil consumption. The cylinder bore is 76.0 mm (2.992 in) and the piston stroke is 77.0 mm (3.031 in).
The crankshaft is made of special forged steel and counterbalanced by weights integrally forged with the crankshaft. The main bearings are lubricated from oil holes which intersect the main oil gallery in parallel with the cylinder bores.
The pistons are aluminum alloy slipper-skirts type. The A14 engine has two compression and single oil control ring. The piston pins are special hollow steel types which are connected to the piston by a full floating fit and to the connecting rods by a press fit. The connecting rods are made of forged steel. Full pressure lubrication is directed to the connecting rods through drilled oil passages from the adjacent main bearings journal. Oil holes are connecting rod journals are located so that oil is supplied to give maximum lubrication at full bearing load.
Cylinder block
Cylinder block alloy
Cast iron
Compression ratio:
8.5:1-9.0:1 (Depends on country and vehicle model)
Cylinder bore:
76.0 mm (2.992 in))
Piston stroke:
77.0 mm (3.031 in)
Number of piston rings (compression / oil):
2 / 1
Number of main bearings:
5
Cylinder inner diameter (standard):
76.000-76.050 mm (2.9921-2.9941 in)
Piston skirt diameter (standard):
75.967-75.017 mm (2.9908-2.9927 in)
Piston pin outer diameter:
18.995-19.000 mm (0.747-0.748 in)
Piston ring side clearance:
Top
0.040 – 0.070 mm (0.0016 – 0.0028 in)
Second
0.030 – 0.060 mm (0.0012 – 0.0024 in)
Oil
Combined
Piston ring end gap:
Top
0.20 – 0.35 mm (0.0079 – 0.0138 in)
Second
0.15 – 0.30 mm (0.0059 – 0.0118 in)
Oil
0.30 – 0.90 mm (0.0118 – 0.0354 in)
Crankshaft journal diameter:
49.951 – 49.964 (1.9666 – 1.9671)
Crankpin diameter:
44.961 – 44.974 (1.7701 – 1.7706)
Cylinder head
The cylinder head is made of strong, light aluminum alloy which gives it good cooling efficiency. A special aluminum bronze valve seat is used on the intake valve, while an iron sintered alloy is used on the exhaust valve. These parts are hot press-fitted. An air injection hole is provided in each exhaust gas port. Intake valves are 37 mm in diameter, and the exhaust valves are 30 mm.
The camshaft is made of special cast iron and supported by five bearings. Camshaft bearings receive lubrication from oil holes which intersect the main oil gallery of the cylinder block. The camshaft is driven by the crankshaft through sprockets and a chain. The tension of the chain is controlled by the chain tensioner which is operated with spring and oil pressure.
The valve rocker arms are mounted on a tubular steel shaft supported on the cylinder head by five rocker shaft brackets. Valve lifter and pushrods are used to operate overhead rocker arms and valve from the camshaft.
Cylinder head
Valve Arrangement:
OHV, chain drive
Valves:
8 (2 valves per cylinder)
Valve timing:
INTAKE
248°
EXHAUST
256°
Valve head diameter:
INTAKE
37.0-37.2 mm (1.457-1.465 in)
EXHAUST
30.0-30.2 mm (1.181-1.189 in)
Valve length:
INTAKE
103.65-103.95 mm (4.0807-4.0925 in)
EXHAUST
Valve stem diameter:
INTAKE
7.970-7.985 mm (0.3138-0.3144 in)
EXHAUST
7.945-7.960 mm (0.3128-0.3134 in)
Valve spring free length:
46.5 mm (1.831)
Camshaft lobe lift:
INTAKE
5.65 mm (0.2224 in)
EXHAUST
5.92 mm (0.2331 in)
Outer camshaft journal diameter:
№1
43.783-43.796 mm (1.7237-1.7242 in)
№2
42.283-43.296 mm (1.6647-1.7046 in)
№3
42.783-42.796 mm (1.6844-1.6849 in)
№4
42.283-42.296 mm (1.6647-1.6652 in)
№5
41.208-41.221 mm (1.6224-1.6229 in)
Maintenance data
Valve clearance (Cold)
Intake valve
0.25 mm (0.0098 in)
Exhaust valve
Valve clearance (Hot)
Intake valve
0.35 mm (0.0138 in)
Exhaust valve
Compression pressure
Standard
13.5 kg/cm2 (192 psi) / 350 rpm
Minimun
12.5 kg/cm2 (178 psi) / 350 rpm
Oil system
Oil consumption , L/1000 km (qt. per miles)
up to 0.5 (1 qt. per 1200 miles)
Recommended engine oil
5W-30, 5W-40, 10W-30, 10W-40
Engine oil capacity (Refill capacity)
With oil filter 3.3 l (3.5 qt.)
Without oil filter 2.8 l (3.0 qt.)
Oil change interval, km (miles)
5,000-10,000 (3,000-6,000)
Oil pressure kg/cm3 (psi)
At idling: more then 0.8 (11)
At 3,000 rpm: 3.8 to 5.2 (54 to 74)
Ignition system
Ignition coil
For Canada models:
Standard: BPR5ES (NGK)
Hot type: BPR4ES (NGK)
Cold type: BPR6ES (NGK)
For USA models:
Standard: BPR5ES-11 (NGK), L46PW-11 (HITACHI)
Hot type: BPR4ES-11 (NGK), L47PW-11 (HITACHI)
Cold type: BPR6ES-11, BPR7ES-11 (NGK), L44PW-11, L45PW-11 (HITACHI)
Ignition timig B.T.D.C./rpm
10°/700
Spark plug gap
1.0 – 1.1 mm (0.039 – 0.043 in) – USA
0.8 – 0.9 mm (0.031 – 0.035 in) – Canada
Tightening torque specs
Tightening torque specs
Cylinder head bolt
70-75 Nm; 7.0-7.5 kg·m; 51-54 ft·lb
Rocker shaft bracket bolt
20-25 Nm; 2.0-2.5 kg·m; 14-18 ft·lb
Connecting rod big end nut
32-38 Nm; 3.2-3.8 kg·m; 23-37 ft·lb
Flywheel bolt
80-90 Nm; 8.0-9.0 kg·m; 58-65 ft·lb
Main bearing cap bolt
50-60 Nm; 5.0-6.0 kg·m; 36-43 ft·lb
Camshaft sprocket bolt
40-48 Nm; 4.0-4.8 kg·m; 29-35 ft·lb
Oil pan bolt
15-20 Nm; 1.5-2.0 kg·m; 11-14 ft·lb
Oil strainer bolt
9-14 Nm; 0.9-1.4 kg·m; 7-10 ft·lb
Oil pump bolt
9-14 Nm; 0.9-1.4 kg·m; 7-10 ft·lb
Oil pan drain plug
20-30 Nm; 2.0-3.0 kg·m; 14-22 ft·lb
Locating plate bolt
4-5 Nm; 0.4-0.5 kg·m; 3-4 ft·lb
Carbutetor nuts
5-7 Nm; 0.5-0.7 kg·m; 4-5 ft·lb
Manifold nuts
15-20 Nm; 1.5-2.0 kg·m; 11-14 ft·lb
Fuel pump nuts
9-14 Nm; 0.9-1.4 kg·m; 6.5-10 ft·lb
Crank pulley bolt
150-200 Nm; 15-20 kg·m; 108-145 ft·lb
Engine mounting bolt
19-25 Nm; 1.9-2.5 kg·m; 14-18 ft·lb
Water pump bolt
9-14 Nm; 0.9-1.4 kg·m; 6.5-10 ft·lb
Rocker pivot lock nut
16-22 Nm; 1.6-2.2 kg·m; 12-16 ft·lb
Timing chain cover bolt
5-7 Nm; 0.5-0.7 kg·m; 4-5 ft·lb
Vehicle applications
| | |
| --- | --- |
| Model | Years Produced |
| Datsun Forklift models | |
| Nissan Vanette C120 | 1978–1988 |
| Nissan LDV 1400 (South Africa) | 2007 |
| Nissan Stanza / Auster / Violet | 1977–1981 |
| Nissan Pulsar N10 (Datsun / Nissan Cherry, Datsun 310) | 1977–1982 |
| Datsun Sunny HB310 (Datsun 140Y or Datsun 210) | 1977-1982 |
| Nissan Sunny B210 (140Y or B-210) | 1975–1978 |
ATTENTION!
Dear visitors, this site is not a trading platform, an official dealer or a spare parts supplier, so we do not have any price lists or spare parts catalogs. We are an information portal and provide the technical specifications of gasoline and diesel engines.



We try to use verified sources and official documentation, however, differences between sources or errors in entering information may occur. We do not provide advice on technical issues related to the engines operation or repair. We do not recommend using provided information for engines repairing engines or spare parts ordering, use only official service manuals and spare-parts catalogs.