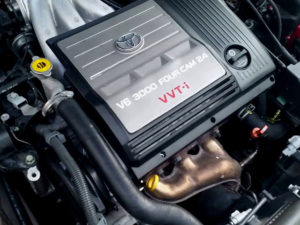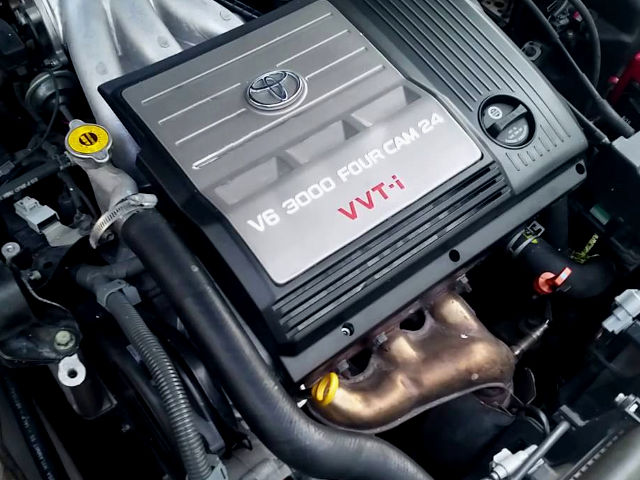 The Toyota 1MZ-FE is a 3.00 l (2,994 cc, 182.7 cu-in) V6, four-stroke cycle water-cooled naturally aspirated internal combustion gasoline engine, manufactured by the Toyota Motor Corporation since 1997 to 2007. The engine was producted on Kamigo Plant and Toyota Motor Manufacturing Kentucky. The Toyota 1MZ-FE engine was honored by Ward's 10 Best Engines list in 1996.
The 1MZ–FE engine has 6 cylinders in a V arrangement at a bank angle of 60° The 1MZ-FE features a lightweight aluminum block with a four-bearings crankshaft and two aluminum heads with two camshafts (DOHC) and four valves per cylinder (24 in total). The Toyota 1MZ-FE engine is equipped with SFI (Sequential Multiport Fuel Injection) system and Electronic Spark Advance (ESA) ignition system with individual coils on each spark plug. The latest engine versions (after 1998) were equipped with a VVTi (Variable Valve Timing) system for the intake camshafts.
Bore and stroke are 87.5 mm (3.44 in) and 83 mm (3.27 in), respectively. Compression ratio rating is 10.5:1.
The Toyota 1MZ-FE engine produced from 186 PS (137 KW; 184 HP) at 5,300 rpm to 220 PS (162 KW; 217 HP) at 5,800 rpm of maximum power and from 267 Nm (27.2 kg·m; 197.0 ft·lb) at 4,000 rpm to 304 Nm (31.0 kg·m; 224.3 ft·lb) at 4,400 rpm of torque depending on year and vehicle model.
The breakdown of the engine code is as follows:
1 – 1nd generation engine
MZ – Engine family
F – Economy narrow-angle DOHC
E – Multi Point Fuel Injection
General information
Engine Specifications
Engine code
1MZ-FE
Layout
Four stroke, V6
Fuel type
Gasoline (petrol)
Production
1994-2007
Displacement
3.0 L, 2,994 cc (182.7 cu in)
Fuel system
Sequential multi-point fuel injection (MPFI)
Power adder
None
Power output
186 PS (137 KW; 184 HP) to 220 PS (162 KW; 217 HP)
Torque output
267 Nm (27.2 kg·m; 197.0 ft·lb) to304 Nm (31.0 kg·m; 224.3 ft·lb)
Firing order
1-2-3-4-5-6
Dimensions (L x W x H):
–
Weight
348 lbs (158 kg)
Cylinder block
The 1MZ–FE engine has an aluminum cylinder block in a V arrangement at a bank angle of 60°. From the front of the RH bank cylinders are numbered 1–3–5, and from the front of the LH bank cylinders are numbered 2–4–6. This engine's firing order is 1–2–3–4–5–6. The engine has press-fitted cast-iron cylinder liners. The cylinder block contains a water jacket, through which coolant is pumped to cool the cylinders.
The crankshaft is supported by 4 bearings inside the crankcase. These bearings are made of copper and lead alloy. The crankshaft is integrated with 9 semi counterweights for balance. Oil holes are placed in the center of the crankshaft for supply oil to the connecting rods, bearings, pistons and other components.
Pistons are made of high temperature-resistant aluminum alloy. Piston pins are the full-floating type, with the pins fastened to either the piston boss nor the connecting rods. Instead, snap rings are fitted on both ends of the piston pins, preventing the pins from falling out.
The Toyota 1MZ–FE motor has two compressions and one oil control rings. The first compression ring is made of steel and the second compression ring is made of cast iron. The oil ring also is made of a combination of steel and stainless steel. The outer diameter of each piston ring is slightly larger than the diameter of the piston and the flexibility of the rings allows them to hug the cylinder walls when they are mounted on the piston.
The cylinder bore is 87.5 mm (3.44 in), piston stroke is 83 mm (3.27 in) mm and compression ratio rating is 10.5:1.
Cylinder block
Cylinder block alloy
Aluminium
Compression ratio:
10.5:1
Cylinder bore:
87.5 mm (3.44 in)
Piston stroke:
83.0 mm (3.27 in)
Number of piston rings (compression / oil):
2 / 1
Number of main bearings:
4
Cylinder inner diameter (standard):
87.500-87.512 mm (3.4449-3.4453 in)
Piston skirt diameter (standard):
87.406-87.416 mm (3.4412-3.4416 in)
Piston compression height:
–
Piston pin outer diameter:
21.997-22.006 mm (0.8660-0.8664 in)
Connecting rod bushing inner diameter:
22.005-22.014 mm (0.8663-0.8667 in)
Connecting rod big end diameter:
56.000 mm (2.2047 in)
Connecting rod center distance:
–
Crankshaft main journal diameter:
61.000 mm (2.4016 in)
Crankpin diameter:
53.000 mm (2.0866 in)
Crankshaft center distance:
41.5 mm (1.6338 in)
Main bearing cap bolts tightening procedure and torque specs:

27 Nm; 2.7 kg·m; 20 ft·lb

After securing bearing cap bolts, make sure crankshaft turns smoothly by hand.

Connecting rod bearing bolts

Step 1: 24.5 Nm; 2.5 kg·m; 18 ft·lb
Step 2: Turn bolts 90°
Cylinder head
The cylinder head is made of aluminum alloy, with a cross-flow type intake and exhaust layout and with pent-roof type combustion chambers. The spark plugs are located in the center of the combustion chambers.
The exhaust camshafts are driven by a single timing belt, and a gear on the exhaust camshaft engages with a gear on the intake camshaft to drive it. The camshaft journal is supported at 5 places between the valve lifters of each cylinder and on the front end of the cylinder head. Lubrication of the cam journals and gears is accomplished by oil being supplied through the oiler port in the center of the camshaft.
Exhaust and intake valves are equipped with irregular pitch springs made of special valve spring carbon steel which are capable of following the cam profile at all engine speeds. The intake valve diameter is 34.0 mm (1.33 in) and the exhaust valve diameter is 27.3 mm (1.07 in).
Adjustment of the valve clearance is done by means of an outer shim type system, in which valve adjusting shims are located above the valve lifters. This permits replacement of the shims without removal of the camshafts.
Cylinder head
Block head alloy
Aluminium
Valve Arrangement:
DOHC, chain drive
Cylinder head height:
–
Valves:
24 (4 valves per cylinder)
Intake valve timing
(Intake valve timing control-OFF):
–
Exhaust valve timing:
–
Valve head diameter:
INTAKE
34.0 mm (1.33 in)
EXHAUST
27.3 mm (1.07 in)
Valve length:
INTAKE
95.45 mm (3.7578 in)
EXHAUST
95.40 mm (3.7559 in)
Valve stem diameter:
INTAKE
5.470-5.485 mm (0.2154-0.2159 in)
EXHAUST
5.465-5.480 mm (0.2152-0.2157 in)
Valve spring free length:
INTAKE
45.50 mm (1.7913 in)
EXHAUST
45.50 mm (1.7913 in)
Camshaft journal diameter:
26.965 mm (1.0616 in)
Head tightening procedure and torque specs:

Step 1: 54 Nm; 5.4 kg·m; 40 ft·lb
Step 2: Turn all bolts 90°
Maintenance data
Valve clearance (Cold)
Intake valve
0.15-0.25 mm (0.006-0.010 in)
Exhaust valve
0.25-0.35 mm (0.010-0.014 in)
Compression pressure
Standard
12.5 kg/m2 (178 psi) / 300 rpm
Minimun
10.0 kg/m2 (142 psi) / 300 rpm
Compression differential limit between cylinders
1.0 kg/m2 (15 psi) / 300 rpm
Oil system
Oil consumption , L/1000 km (qt. per miles)
up to 0.5 (1 qt. per 1200 miles)
Recommended engine oil
5W-30
Oil type API
SL "Energy−Conserving"
Engine oil capacity (Refill capacity)
With filter change 4.7 liters (5.0 US qts, 4.1 Imp, qts)
Without filter change 4.5 liters (4.8 US qts, 4.0 Imp. qts)
Oil change interval, km (miles)
8,000 (5,000)
Oil Pressure
Idle speed: More than 29 kPa
3,000 rpm: More than 294-539 kPa
Ignition system
Spark plug
Denso: SK20R11, NGK: IFR6A11, Toyota: 90919-01210
Spark plug gap
1.0-1.1 mm (0.039-0.043 in)
Spark plug tightening torque
18 Nm (1.8 kg⋅m, 13 ft⋅lb)
Valve clearance adjustment data
Calculate the thickness of new adjusting valve shim so valve clearance comes within specified values.
R = Thickness of removed valve shim
N = Thickness of new valve shim
M = Measured valve clearance
Intake:
N = R + [M – 0.20 mm (0.008 in)]
Exhaust:
N = R + [M – 0.30 mm (0.012 in)]
Valve shims are available in 17 sizes range from 2.50 mm (0.0984 in) to 3.30 mm (0.1299 in), in steps of 0.05 mm (0.0020 in).
Example (exhaust valve):
R = 2.70 mm
M = 0.52 mm
N = 2.70 + (0.45 – 0.30) = 2.85 mm.
Vehicle applications
| | |
| --- | --- |
| Model | Years Produced |
| Toyota Camry V6 | 1993–2006 |
| Lexus ES 300 | 1993–2003 |
| Toyota Windom | 1993–2003 |
| Toyota Avalon | 1994–2004 |
| Toyota Pronard | 2000 |
| Toyota Harrier | – |
| Toyota Sienna | 1997–2000 |
| Toyota Mark II Wagon | 1997–2001 |
| Toyota Solara V6 | 1998–2003 |
| Toyota Estima | 2000–2005 |
| Lexus RX 300 | 1998–2003 |
| Lexus ES 300 | 1999–2003 |
| Toyota Avalon | 2000–2004 |
| Toyota Highlander | 2000–2003 |
| Toyota Kluger | 2000–2003 |
| Toyota Sienna | 2001–2003 |
| Toyota Alphard | 2002–2007 |
| Toyota Camry V6 | 2003–2006 |
ATTENTION!
Dear visitors, this site is not a trading platform, an official dealer or a spare parts supplier, so we do not have any price lists or spare parts catalogs. We are an information portal and provide the technical specifications of gasoline and diesel engines.



We try to use verified sources and official documentation, however, differences between sources or errors in entering information may occur. We do not provide advice on technical issues related to the engines operation or repair. We do not recommend using provided information for engines repairing engines or spare parts ordering, use only official service manuals and spare-parts catalogs.