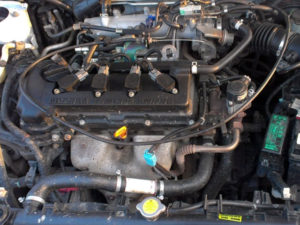 The Nissan QG16DE is a 1.6 liter (1,596 cc, 97.39 cu in) straight-four 4-stroke natural aspirated gasoline engine from Nissan QG-family. The Nissan QG16DE was designed by Aichi Machine Industry.
The QG16DE motor has a cast-iron block and aluminum alloy cylinder head with two overhead camshafts (DOHC). The engine uses multi-point fuel injection system; variable valve timing system on the intake side (NVCT); electronic ignition system with individual ignition coil for each cylinder; electronic throttle body; intake manifold with vortex valves, ERG system, and three-way catalyst. The engine is also equipped with a mixture ratio self-learning control system. Redline is 6,500 rpm.
The engine has a 76.0 mm (2.99 in) cylinder bore and 88.0 mm (3.46 in) piston stroke. The compression ratio is 9.5:1. It produced 120 PS (88 kW; 118 HP) at 6,000 rpm of horsepower and 165 Nm (16.8 kg·m; 121.8 ft·lb) at 4,000 rpm of torque.
The breakdown of the engine code is as follows:
QG – Engine Family
16 – 1.6 Liter Displacement
D – DOHC (Dual Overhead Camshafts)
E – Multi Point Fuel Injection
Engine systems description
Engine Control System
The engine uses the ECCS (Electronic Concentrated engine Control System). This system controls the fuel injection, ignition timing and idle RPM as one single control unit.
Multiport Fuel Injection System (MFI)
The amount of fuel injected from the fuel injector is determined by the engine ECM. The ECM controls the injection pulse duration. The amount of fuel injected is a program value in the ECM memory. The program value is preset by engine operating conditions. These conditions are determined by input signals from the crankshaft position sensor, camshaft position sensor, and the mass airflow sensor.
Two types of fuel enjection timing system are used.
Sequential multiport fuel injection is used when the engine is running. Fuel is injected into each cylinder during each engine cycle according to the firing order.
Semultaneous multiport fuel injection system is used when the engine is being started or if the fail-safe system is operating. Fuel is injected semultaneously into all six cylinders two times each engine cycle.
Electronic Ignition System (EI)
The ignition system is controlled by the ECU to maintain the best air-fuel ratio for every running condition of the engine. The ignition timing data is stored in the ECM, this data forms the map shown. The ECM receives information such as the injection pulse width and camshaft position sensor signal. Computing this information, ignition signals are transmitted to the power transistor.
General information
Engine Specifications
Engine code
QG16DE
Layout
Four stroke, Inline-4 (Straight-4)
Fuel type
Gasoline
Production
–
Displacement
1.6 L, 1,596 cm3 (97.39 cu in)
Fuel system
Multi Point Fuel Injection (MFI)
Power adder
None
Power output
120 PS (88 KW; 118 HP) at 6,000 rpm
Torque output
165 Nm (16.8 kg·m; 121.8 ft·lb) at 4,000 rpm
Firing order
1-3-4-2
Dimensions (L x H x W):
–
Weight
–
Cylinder block
The QG16DE motor has a cast-iron cylinder block, cylinder bore is 76.0 mm (2.99 in) and the piston stroke is 88.0 mm (3.46 in). The pistons are each fitted with two compression rings and a single oil ring. The compression ratio is 9.5:1.
Cylinder block
Cylinder block alloy
Cast iron
Compression ratio:
9.5:1
Cylinder bore:
76.0 mm (2.992 in)
Piston stroke:
88.0 mm (3.465 in)
Number of piston rings (compression / oil):
2 / 1
Number of main bearings:
5
Block Height:
213.95-214.05 mm (8.4232-8.4271 in)
Cylinder inner diameter (standard):
76.000-76,010 mm (2,9921-2.9925 in)
Piston skirt diameter (standard):
75.975-75.985 mm (29911-2.9915 in)
Piston pin outer diameter:
18.989-19.001 mm (0.7476-0.7481 in)
Piston ring side clearance:
Top
0.050-0.085 mm (0.0020-0.0033 in)
Second
0.030-0.070 mm (0.0012-0.0028 in)
Oil
0.050-0.120 mm (0.0020-0.0047 in)
Piston ring end gap:
Top
0.20-0.44 mm (0.0079-0.0173 in)
Second
0.37-0.61 mm (0.0146-0.0240 in)
Oil
0.20-0.69 mm (0.0079-0.0272 in)
Connecting rod center distance:
140.45-140.55 mm (5.5295-5.5335 in)
Connectin rod small end inner diameter:
19.000-19.012 mm (0.7480-0.7485 in)
Connectin rod big end inner diameter:
43.000-43.013 mm (1.6929-1.6934 in)
Crankshaft journal diameter:
49.956-49.964 mm (1.9668-1.9671 in)
Crankpin diameter:
39.968-39.974 mm (1.5735-1.5738 in)
Crankshaft center distance:
43.95-44.05 mm (1.7303-1.7342 in)
Cylinder head
The engine has an aluminum cylinder head with two chain-driven overhead camshafts and sixteen valves (four per cylinder). The QG16DE has a single timing chain. Intake valves are 30.0 mm (1.18 in) in diameter and the exhaust valves are 25.0 mm (0.99). Intake valves duration is 228°, and exhaust valves duration is 204°.
The QG16DE does not have hydraulic lifters, so special shims are used to adjust the valve clearance.
Cylinder head
Cylinder head alloy
Aluminum
Cylinder head height:
118 mm (4.6456 in)
Valve Arrangement:
DOHC, chain drive
Intake duration:
228°
Exhaust duration:
204°
Valve head diameter:
INTAKE
29.9-30.2 mm (1.177-1.189 in)
EXHAUST
24.9-25.2 mm (0.980-0.992 in)
Valve length:
INTAKE
92.25 mm (3.6319 in)
EXHAUST
92.62 mm (3.6464 in)
Valve stem diameter:
INTAKE
5.465-5.480 mm (0.2152-0.2157 in)
EXHAUST
5.455-5.470 mm (0.2148-0.2154 in)
Cam height:
INTAKE
40.217-40.407 mm (1.5833-1.5908 in)
EXHAUST
38.965-39.155 mm (1.5341-1.5415 in)
Outer camshaft journal diameter:
№1
27.935-27.955 mm (1.0998-1.1006 in)
№2-5
23.935-23.955 mm (0.9423 – 0.9431 in)
Head tightening procedure and torque specs:

Step 1: 29.4 Nm; 3.0 kg·m; 22 ft·lb
Step 2: 58.8 Nm; 6.0 kg·m; 43 ft·lb
Step 3: Loosen all bolts completely
Step 4: 29.4 Nm; 3.0 kg·m; 22 ft·lb
Step 5: Turn main bolts 50-55° or 58.8 Nm; 6.0 kg·m; 43 ft·lb
Maintenance data
Valve clearance (HOT)
Intake valve
0.304-0.416 mm (0.012-0.016 in)
Exhaust valve
0.348-0.472 mm (0.014-0.019 in)
Compression pressure
Standard
13.5 kg/cm2 (13.25 bar, 192 psi) / 350 rpm
Minimun
11.5 kg/cm2 (11.28 bar, 164 psi) / 350 rpm
Compression differential limit between cylinders
1 kg/cm2 (0.98 bar, 14 psi) / 350 rpm
Oil system
Oil consumption , L/1000 km (qt. per miles)
up to 0.5 (1 qt. per 1200 miles)
Recommended engine oil
5W-30
5W-40
10W-30
10W-40
Oil type API
SH, SJ or SL
Engine oil capacity (Refill capacity)
With filter change 2.7 l
Without filter change 2.5 l
Oil change interval, km (miles)
10,000 (6,000)
Oil Pressure, kPa (bar)
Idle speed: More than 70 (0.7)
2,000 rpm: More than 280 (2.8,)
6,000 rpm: More than 420 (4.20)
Ignition system
Spark plug
Standard: LFR5A-11 (NGK)
Hot: LFR4A-11 (NGL)
Cold: LFR6A-11 (NGK)

Spark plug gap
1.0 – 1.1 mm (0.039 – 0.043 in)
Spark plug torque
19.6-29.4 Nm (2.00-3.00 kg⋅m, 14.3-21.7 lb·ft)
Valve clearance adjustment data
Calculate the thickness of new adjusting shim so valve clearance comes within specified values.
R = Thickness of removed shim
N = Thickness of new shim
M = Measured valve clearance
Intake:
N = R + [M – 0.37 mm (0.0146 in)]
Exhaust:
N = R + [M – 0.40 mm (0.0157 in)]
Shims are available in 50 sizes from 2.00 mm (0.0787 in) to 2.98 mm (0.1173 in), in steps of 0.02 mm (0.0008 in).
Example (intake valve):
R = 2.10 mm
M = 0.52 mm
N = 2.10 + (0.52 – 0.37) = 2.25 mm, so we need a shim with code 225.
For adjusting
Hot
Cold*
Intake
0.304-0.416 mm (0.012-0.016 in)
0.25-0.33 mm (0.010-0.013 in)
Exhaust
0.348-0.472 mm (0.014-0.019 in)
0.32-0.40 mm (0.013-0.016 in)
*: At a temperature of approximately 20°C (68°F)
Whenever valve clearances are adjusted to cold specifications, check that the clearances satisfy hot specifications and adjust again if necessary.
Vehicle applications
| | |
| --- | --- |
| Model | Years Produced |
| Nissan Sunny NEO | – |
| Nissan Sunny (N16), Sri Lanka | – |
| Nissan Primera (P12) | – |
| Nissan Sentra (N16), Philippines | |
| Nissan Pulsar (N16), Australia and New Zealand | – |
| Renault Scala, Mexico | – |
| Nissan Almera, South Africa | |
ATTENTION!
Dear visitors, this site is not a trading platform, an official dealer or a spare parts supplier, so we do not have any price lists or spare parts catalogs. We are an information portal and provide the technical specifications of gasoline and diesel engines.



We try to use verified sources and official documentation, however, differences between sources or errors in entering information may occur. We do not provide advice on technical issues related to the engines operation or repair. We do not recommend using provided information for engines repairing engines or spare parts ordering, use only official service manuals and spare-parts catalogs.